Meet the Priests of 'Conversations with our Priests'
Meet the Priests of 'Conversations with our Priests':
---
The Rev. Dr. Stuart Higganbotham

Fr. Stuart began as rector of Grace Episcopal Church in Gainesville in early January 2014.  He has a particular passion for the intersection of contemplative practices and congregational development.  His work as a priest, retreat leader, and author is grounded in the Christian contemplative tradition.

He has shared with the New Contemplative Exchange, a fellowship first gathered by Thomas Keating, Richard Rohr, Tilden Edwards, and Laurence Freeman at St. Benedict's Monastery in Snowmass, Colorado Fr. Stuart contributed to and co-edited the volume Contemplation and Community: A Gathering of Fresh Voices for a Living Tradition  and is working on a further book that delves more deeply into what he sees as the opportunity for a contemplative reformation within the traditional parish church.

He studied in the pre-med program at Lyon College in Batesville, Arkansas (B.S. in Biology, summa cum laude) and did his initial theological studies at Columbia Theological Seminary. He has also completed a certificate in Anglican Studies from the School of Theology at the University of the South, Sewanee Tennessee where he also completed his Doctor of Ministry degree as well.

He co-directs the clergy leadership program with the Shalem Institute for Spiritual Formation and has also worked with the World Community for Christian Meditation, the Candler School of Theology, Mepkin Abbey, and other communities as they explore how the practice of prayer helps nurture congregational life and vocation.

He and his wife, Lisa, have one daughter, Evelyn. They grew up in Southeastern Arkansas, in the Mississippi Delta, with fried catfish, sweet tea, and mosquitoes the size of small birds.

Learn more on their website, https://www.gracechurchgainesville.org/

 

 

 

 

 

 

 


The Rev. Dr. Stuart Higganbotham's Books:

Contemplation And Community : A Gathering Of Fresh Voices For A Living Tradition

 
The Rev. Dr. Angela F. Shepherd

The Rev. Canon Dr. Angela F. Shepherd is the seventh rector of St. Bartholomew's Episcopal Church, a congregation deeply committed to radical hospitality, social justice, Christian formation, worship, and music. Mother Angela's tenure began in March of 2018 making her the first woman and African American to be called as rector. She is a contemplative, Gospel based strategist who enjoys bringing people closer to God and working with others for the common good.

Mother Angela was ordained deacon and priest in 1996. Prior to moving to Atlanta, she enjoyed a rich and wide-ranging ministry in the Episcopal Diocese of Maryland where she served on the Bishop's staff for seven years as Canon for Mission (2010 – 2018) and rector of St. Philip's, Annapolis (1999-2010). Her first call was to St. Augustine's, Youngstown, Ohio where she was vicar (1996-1999).

In addition to leading congregations her ordained ministry has included: programs that supported children and youth, chief operation officer for Sutton Scholars High School Enrichment Program, chairperson Truth and Reconciliation Commission, ministries that dismantled racism, cared for the environment, and public policy; working with vestries by leading retreats, workshops and making presentations covering various topics.

Angela's commitment to the Episcopal Church extends beyond the nave. Her gifts and skills have been shared in three dioceses and the broader church: Commission on Ministry, Standing Committee, General Convention Deputy in 2003, 2006, 2009, Diocesan Chaplain to Daughters of the King, Diocesan Council, Budget and Finance, Disciplinary Board for Bishops, and the Executive Council Committee on Antiracism. As a public theologian she has given time to a variety of civic boards, marched in rallies, and testified before the state legislature, putting her faith in action.

Dr. Shepherd is a lifelong learner, who earned a Doctor of Ministry degree with a concentration in Becoming Beloved Community from McCormick Theological Seminary, Chicago, Master of Divinity degree from the former Seabury Theological Seminary, Evanston, IL where she received the Field Prize for homiletics. A curiosity for money and faith led to the completion of an Executive Certificate in Religious Fundraising from Indiana University Lilly Family School of Philanthropy. She also holds degrees in human resources development and business administration, and marketing.

Angela enjoys exploring the intersection between contemporary Christianity and culture, travel, smooth jazz, houseplants, the outdoors, fine arts, Bikram yoga, and sporting events. She is a member of Alpha Kappa Alpha Sorority, Incorporated, Daughters of the King, Union of Black Episcopalians, and Episcopal Preaching Foundation faculty member.

Learn more: https://www.stbartsatlanta.org/about

 

 

 
The Rev. Canon Cathy Zappa

Before graduating with an M.Div. from Candler School of Theology at Emory in 2010, The Rev. Cathy Zappa earned B.A. from University of Georgia in 1994, an M.A. from University of Texas in 1997, and a B.A. from University of Texas in 2000.

Having served as part-time priest at Church of the Holy Spirit in Cumming, and as Program Director of the Theological Studies program at Arrendale Prison in Alto, Georgia, The Rev. Cathy Zappa also served the Cathedral as Canon for Education and Worship, and has worked closely in the chaplaincy programs of the women's prison system in Atlanta. Currently, she serves as Canon for Liturgy and Pastoral Care.

Learn more on their website, www.cathedralatl.org

 

 

 
The Rev. Barbara Brown Taylor

Barbara Brown Taylor is a best-selling author, teacher, and Episcopal priest. Her first memoir, Leaving Church, won an Author of the Year award from the Georgia Writers Association in 2006. Her next two books, An Altar in the World (2010) and Learning to Walk in the Dark (2015), earned places on the New York Times bestseller list. She has served on the faculties of Piedmont College, Columbia Theological Seminary, Candler School of Theology at Emory University, McAfee School of Theology at Mercer University, and the Certificate in Theological Studies program at Arrendale State Prison for Women in Alto, Georgia. In 2014 TIME included her on its annual list of Most Influential People; in 2015 she was named Georgia Woman of the Year; in 2016 she received the President's Medal at the Chautauqua Institution in New York. Her fourteenth book, Holy Envy, was released by HarperOne in March 2019.

Previously, she has been an Avon lady, a cocktail waitress, a horseback riding instructor, and a hospital chaplain, but her favorite job was teaching world religions at Piedmont College for twenty years before putting the chalk down in 2017. She now divides her time between writing, speaking, and caring for the land on which she lives. Barbara and her husband Ed tend a small farm in the foothills of the Appalachians.

Learn more on https://barbarabrowntaylor.com/

 

 

 

 

 

 

Photograph by Melissa Golden/Redux for CNN
The Very Rev. Grace Burton-Edwards, DMin.

Grace Burton-Edwards, came to Columbus in February 2014 from Indianapolis, IN. She was originally ordained as an American Baptist pastor in 1994 and served in American Baptist, United Methodist, and ecumenical settings before discerning a call to the Episcopal Church.

That call began during a college semester in London where she met God in new ways through Anglican liturgy. It reemerged as she served as a youth minister with an Episcopal church. It deepened when she enrolled in a Doctor of Ministry program at an Episcopal seminary and learned more about our baptismal covenant and commitment to God's mission in the world.

Grace was confirmed in 2004 and ordained as a priest in 2007. Grace graduated from Mississippi College in Clinton, Mississippi, attended the Southern Baptist Theological Seminary in Louisville, Kentucky, completed her MDiv at Christian Theological Seminary in Indianapolis, and completed a Doctor of Ministry in Congregational Development at Seabury-Western. She is married to Taylor Burton-Edward who works with United Methodist Communications. They have two adult sons. Jacob lives in in Indianapolis, and Will is a working actor in Charlotte, North Carolina.

Learn more on www.stthomascolumbus.org

 

 

 

 

 

 

 
The Rev. Nikki Mathis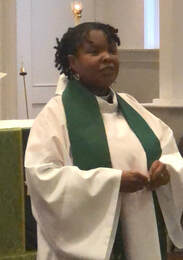 Prior to this ministry, The Rev. Mathis served as the Associate Rector of St. Peter's Episcopal Church in Rome, Georgia. At St. Peter's her responsibilities included preaching, teaching, pastoral care and counseling, and oversight of the children's and youth ministry programs. Prior to her five years at St. Peter's, she was the Associate Dean for Student Life at the School of Theology, University of the South in Sewanee, Tennessee. She has also served as Associate Rector at St. Paul's Episcopal Church in Atlanta.

In addition to her parish experience, Nikki has served as a teacher / professor in the Preaching Excellence Program in Richmond, Virginia during the past 7 years. And prior to entering the ministry, she worked as a professional social worker for the Department of Family and Children Services.

Nikki received her call to the ministry while she was attending St. Gregory the Great. The Rt. Rev. Porter Taylor, Rector at that time, encouraged her to attend seminary.

She is married to Vincent Mathis, and they have a 5-year old son named Ethan. She holds a BA degree from Emory University, a Master of Social Work from the University of Georgia, and a Master of Divinity from the University of the South.

Learn more on their website, https://www.stgregoryathens.org

The Rev. Ben R. Wells
The Reverend Ben R. Wells became the rector of St. Francis on January 1, 2013.

Ben is a native Kentuckian and attended the University of Kentucky where he received a BS in Biology and an MS in Toxicology. He spent 25 years as a forensic toxicologist in Lexington, KY and Atlanta, GA. It was in Atlanta in 1992 that Ben met his partner Arthur while both were beginning their journey with the Episcopal Church.

After discerning for the priesthood and being granted postulancy by the Episcopal Diocese of Atlanta, Ben and Arthur (with Bishop J. Neil Alexander's consent) decided that Ben would attend The Church Divinity School of the Pacific (CDSP) in Berkeley, CA, a member of the Graduate Theological Union, an ecumenical consortium of nine seminaries and two houses of study. Ben became a candidate for Holy Orders in 2010. He graduated in May of 2011 with a Master of Divinity emphasizing homiletics and liturgics. Ben was a co-winner of the 2011 CDSP preaching award.

After accepting an offer to relocate to Macon to become the assisting rector at St. Francis, Ben was ordained to the priesthood on August 27, 2011 at St. Bartholomew's Episcopal Church in Atlanta, his sponsoring community. At St. Bart's, Ben had served as the acolyte warden for eight years, Sunday school teacher for ages 12-14, junior warden, and senior warden.

Ben's interests lie in reading, gardening, cooking, contemplative prayer, and watching zombie, sci-fi, and classic Hollywood films. He enjoys hiking and going to Camp Mikell when he can. He also has a great interest in religious icons after taking a summer "writing icons" class at the Dominican School of Philosophy and Theology in Berkeley.

His ministry's emphasis is on Children's, Youth, and Adult Christian Formation, and the St. Francis Young Adult community. Since 2006, Ben has traveled to southern Honduras as a member of a medical mission team sponsored by the Episcopal Dioceses of North Carolina and Atlanta. He considers himself both a scientist and a priest, both vocations searching to make the invisible visible.
You can learn more on their website, https://www.stfrancismacon.com

The Rev. Scott Kidd
The Rev. Scott Kidd of Church of the Resurrection strives to demonstrate the real-life application of scripture, tradition and reason by providing a safe place to respond to each other's needs, hurts, joys and interests. The Church of the Resurrection is proud to be a welcoming and relevant Christian community doing what matters through prayer, worship, teaching, outreach, fellowship and service.
Learn more on their website, https://www.resurrectionsautee.com
 

The Rev. Ed Bacon

Ed Bacon, the son of a Baptist minister, began his Episcopal journey of faith at St. Luke's nearly four decades ago when, while serving as our parish's youth minister, he was granted admission as a postulate for the priesthood. Ed was ordained in 1983 and his ministry led him to become a national voice on issues of faith and justice for all regardless of race, gender, religion, or sexual orientation.

Until his retirement in May 2016, Ed was the rector of All Saints Church in Pasadena, California – a 4,000 member multi-ethnic urban Episcopal parish, with a reputation for energetic worship, a radically inclusive spirit, and a progressive peace and justice agenda. He shepherded All Saints for more than two decades. Before that he served as dean of the Cathedral of St. Andrew in Jackson, Mississippi; rector of St Mark's in Dalton; and, earlier, when he was a Baptist minister, he was campus minister and dean of students at Mercer University in Macon.

Ed, who holds a master of theology from Emory University and honorary doctorates from The Church Divinity School of the Pacific and Mercer University, is the author of 8 Habits of Love, a guide to living life through love and connection, not fear and isolation. His energies these days focus on leadership in anxious times; living a love-based life as opposed to a fear-based life; peacemaking; interfaith relations; contemplative practices and their impact on relationships, creativity, and brain functioning; and, articulating the Christian faith in non-bigoted, science-friendly, and inclusive ways. He blogs regularly on Medium.com about wholemaking in a tribalized/polarized cultural environment and can be followed there as well as on Facebook and Twitter @RevEdBacon. His new website is Edbacon.co.

Ed has been both a guest and a regular guest host on Oprah Winfrey's Soul Series on Oprah & Friends Radio, and a guest panelist in the Spirituality 101 segment of The Oprah Winfrey Show's "Living Your Best Life" series. He is a contributor to Oprah.com and a frequent guest on Super Soul Sunday on the Oprah Winfrey Network and his interviews with her have been chosen as part of Super Soul Conversations by Oprah podcasts. He is the recipient of many awards including the Peace Award and the Compassion Award from the Muslim Public Affairs Council, Los Angeles. In October he was the recipient of the Ruby McKnight Williams Award from the Pasadena NAACP. Ed and his wife, Hope Hendricks-Bacon, have two adult children and two grandchildren. Since retiring they have lived near their family in Birmingham, Alabama.

Learn more on https://www.stlukesatlanta.org/

 

 

 

 

 

 

 

 
The Rev. Kim Jackson

The Rev. Kim Jackson's bio:

The Rev. Kim Jackson, a Candler School of Theology alumna, was recently named one of Emory's 2019 "40 Under Forty". Jackson currently serves as Interim Vicar at the Church of the Common Ground, our church on the streets of downtown Atlanta that intentionally strives to build community and care for the spiritual needs of the homeless. Jackson, the first black LGBTQ+ person ordained as a priest in the Episcopal Diocese of Atlanta, previously served as chaplain at the Absalom Jones Center for Racial Healing and the Atlanta University Center, and as associate rector of All Saints' Episcopal Church.

Learn more on https://www.churchofthecommonground.org

 

 

 

 

 

 

 

 
The Very Rev. David C. Probst

The Very Rev. David C. Probst' bio:

Located in downtown Milledgeville, St. Stephen's is a warm, welcoming community, together seeking deeper faith and friendship in Christ.

Learn more on http://ststephensga.com/

 

 

 

 

 

 

 

 
The Very Rev. Daniel Brown

The Very Rev. Daniel Brown's bio:

Born: Harlan, KY November 13, 1953, just after my twin sister Laurie. With our parents, Thomas Rhoades Brown and Dora Warfield Allen Brown and 5 other siblings (3 girls, 2 boys) we next lived in Anderson, SC and then Tappahannock, VA. I studied at Furman Univ. which brought me to Greenville, SC. After graduation in 1976 I also lived in Brevard, NC. I married Frances Devine in October '79 and moved to Martinez, CA. We divorced in 1981.

I also lived in Pleasant Hill, Lafayette and Walnut Creek, CA while coaching Track, XC and Basketball for Acalanes HS; before returning to SC in the spring '88. Back in SC I met Cynthia Leigh Carson in January '89. I was confirmed in the Episcopal Church in May, '89. We married in November '89 and moved to Sewanee, TN in the fall of 1990. I graduated witha Master of Divinity degree in May, '93. Our son David was born January 2, '93.

I was ordained a deacon in June '93 and we moved to Augusta, Ga. I was ordained a priest in January '94. Our daughter Mary Carson was born June 27, '95. In November '98 we moved to Clarkesville, then Douglasville '01, then Athens in 2003 and as of March 2010 I have served in Madison GA.

I have a blog called Blue is God's Favorite Color thta I have had since 2003. You can check it out here: http://oldmiler.blogspot.com/

Learn more on https://adventmadisonga.com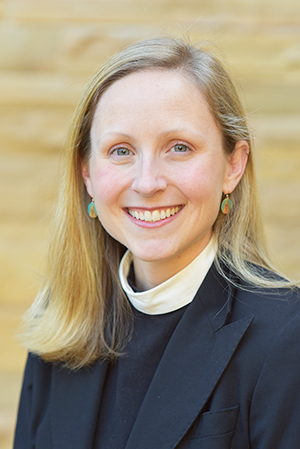 The Rev. Lauren Holder
The Rev. Lauren Holder joined the Cathedral staff in January 2018. Lauren had previously served as Priest and Senior Program Officer of Community Engagement at Trinity Wall Street in New York City before moving to Atlanta to be the Associate Rector of Outreach and Pastoral Care at St. Luke's Episcopal Church. 
Lauren grew up in Lexington, Virginia. She attended Washington & Lee University, where she earned a Bachelor's degree in politics with a concentration in Environmental Studies (2003). She later earned a Master's degree in Liberal Arts at St. John's College (2006), and then a Master of Divinity at The General Theological Seminary (2014). 
Having previously served as Canon for Outreach and Congregational Life, Lauren currently serves as Canon for Community and Education. She is deeply committed to building community—both within and beyond the Cathedral.
Lauren is active in the Diocese of Atlanta, currently serving as a member of the Standing Committee. In the broader community, Lauren previously served as a board member of The Boyce L. Ansley School and Crossroads Community Ministries. 
Lauren lives in Atlanta with her husband, Jason, and their two children, Charles and Lucy Rae.
Learn more on their website, www.cathedralatl.org
The Rev. Tim Meyers
Rev. Tim comes to St. Anne's from St. James Parish in Wilmington, NC, where he served as Assistant Rector. Before that he was lay youth minister at St. Martin's Episcopal Church in Charlotte, NC, an experience that helped him discern his call to ordained ministry.
In addition to youth ministry, Rev. Tim has a passion for Christian Formation and seeing how we all discover what the Christian faith teaches us about God, ourselves, and the world. In his spare time he enjoys spending time with his family, running and swimming, watching movies, and experiencing different parts of the world through travel.
Learn more on their website, www.saintannes.com
The Rev. Dr. Theophus "Thee" Smith
The Rev. Theophus "Thee" Smith, Ph.D., is a Priest Associate. Thee joined St. Philip's staff as deacon in 2001 and was ordained a priest in 2002. He was educated at the Phillips Exeter Academy in New Hampshire, St. John's College ('Great Books' curriculum) in Annapolis, and the Virginia Theological Seminary in Alexandria and the Graduate Theological Union in Berkeley, California. At Emory University, he has taught both undergraduate and graduate students since 1987 and plans active retirement as emeritus faculty in 2018.
His academic specialties include philosophy of religion, African American religious studies, liberation theology, and religion and violence studies. In 1994, he authored Conjuring Culture: Biblical Formations of Black America and co-edited Curing Violence, a collection of essays on 'sacred violence' and the work of René Girard. He formerly directed the Atlanta chapters of the Community of the Cross of Nails (Coventry Cathedral, England) and the National Coalition Building Institute (Washington, D.C.). As co-founder of the social justice nonprofit, Southern Truth and Reconciliation (STAR, Inc.), Thee also specializes in diversity training, conflict resolution and interfaith relations. His profile is available for engagements on the Episcopal Diocese of Atlanta's list of speakers, consultants and facilitators here.
Learn more on their website, https://www.cathedralatl.org.
The Rev. Sarah C. Stewart
The Rev. Sarah Stewart is Associate Rector for Young Adults and Innovation. She leads our young adult ministries, college student ministry, and innovative ministries, including small groups and collaboration with other faith communities in Atlanta.
Between years of delving into poetry, theology, archaeology, and biblical studies, she earned degrees at Colorado Christian University and Yale Divinity School. Sarah lives in Midtown and enjoys being outside, exploring new music scenes, and going to farmers' markets.
Learn more on their website, https://allsaintsatlanta.org/.
The Very Rev. Tim Black

Bio coming soon