Meet the Priests of 'Conversations with our Priests'
Below is a ongoing list of priests who have or will be participating in our 'Conversations with our Priests' series. Simply click any name from the list and you will be jumped to the area on this page with their specific biography and information. 
---
The Rev. Deacon Geoffrey T. Smith
Smith was the Director of Risk Management for C&S Wholesale Grocers in Keene, NH. Among his previous experience was: Vice-President of Risk Management for Iron Mountain Incorporated in Boston, MA; Senior Vice President of Risk Management for TD Banknorth Insurance Agency in Portland, ME; Director of Banking and Risk Management for Brunswick Corporation, Lake Forest, IL.
In the Episcopal Church, he currently is a Deacon in the Diocese of New Hampshire and serves as a safe church training facilitator, co-convener of the New England Deacon's Network, and a member of the Our Kids Commission and Emergency Preparedness Committee.  In the Diocese of Massachusetts, he was the Archdeacon and also served as a deacon in two historic churches, program chair for the New England Deacon's Network. As a deacon in the Diocese of Maine, he was a member of Diocesan Council, Diocesan Review Committee, and was a Safe Church Training Coordinator. In the Diocese of Chicago, he was a deacon at the cathedral, a board member of Cathedral Shelter, and was a Safe Church Trainer.
He holds a Masters of Business Administration in Finance from DePaul University in Chicago IL and a Bachelor of Arts in Economics from the University of Connecticut.
He grew up in Eastern Connecticut but has lived and served since his ordination to the diaconate in 1996 in Chicago, Maine, Massachusetts, New Hampshire, and New York City before coming to Essex.  He has taken an active role in encouraging and equipping congregations to seek and serve Christ in many ways beyond the four walls of their church.  At St. John's, this passion has led to expanding an awareness of the challenges we all face in educational opportunity for children growing up in poverty, and racial reconciliation.
In his spare time, Geof is a confirmed "train geek," enjoying model railroading as well as spending as much time as possible with his three grandchildren and cooking with his wife, Gerri.
The Rev. George Yandell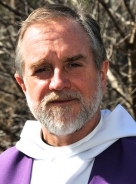 George was called by the vestry in July 2012 as rector having served as priest-in-charge at Holy Family since August 1, 2010. George came from Calvary Episcopal Church in Memphis, Tenn. where he had served as senior associate to the rector for 8 years. Ordained for thirty five years, George has served churches in Tenn., Ark., and Texas. A graduate of Emory University and Virginia Theological Seminary, George and his wife, Susan, have four adult children.
The Rev. Bryan Sullivan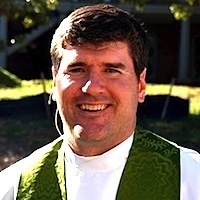 Brian grew up in Marietta, GA, and graduated from Walton High School in 1989. He received a Bachelors of Fine Arts from the University of Georgia before attending The General Theological Seminary in New York City where he received his Masters of Divinity in 1997. Before becoming the rector of St. Benedict's Episcopal Church in Smyrna, Brian served as assistant rector St. Peter's in Rome, GA, St. Anne's in Atlanta and as rector of the Church of the Incarnation in Highlands, NC.

Fr. Sullivan is also the Chairman of the Board of Trustees of St. Benedict's Episcopal Day School and President of Kids4Peace International with chapters in Jerusalem, Atlanta, North Carolina, Vermont, Boston, Toronto, Houston, New Hampshire, and Seattle.

He has been married to Mindy Sullivan since 2000 and they have three children. In his free time he enjoys triathlon, fly-fishing and watching his children play soccer, swim and golf.
The Rev. Ruth Tate
Rev. Ruth Tate grew up in the very small town of Shattuck, Oklahoma. Based on an interest in music (especially singing), she obtained a bachelor's degree in Vocal Music Education. She followed that with a change in field to Speech-Language Pathology. A feature of continuity between the two fields was a specialty in voice.
Ruth's career took her north, and she became an Associate Professor in Communication Disorders at the University of South Dakota in Vermillion, where she taught for 12 years. It was at the University that she met the love of her life, Dr. Donald Tate. Their daughter, Elizabeth, was born while they were still in South Dakota. The Tates went as a family to Sewanee, Tennessee, where Don and Ruth earned Masters of Divinity degrees.
In 2003, the Tates accepted calls to St. Andrew's, Fort Valley, and St. Mary's, Montezuma, where they served for 12 years. Ruth is now retired and still remains active at St. Andrew's.



The Rev. Lynnsay Buehler 
Lynnsay received training in spiritual direction and various practices of prayer at the Jesus Center of Atlanta and training in Centering Prayer at Green Bough House of Prayer. She also trained in Pastoral Counseling and Marriage and Family Therapy at Georgia Baptist Medical Center. She was a founding member of the Episcopal Diocese of Atlanta's Commission for Spiritual Formation. She is a spiritual director, leads classes in contemplative prayer as well as quiet days and retreats. She is a member of Spiritual Director's International, ACPE and is an Associate of Green Bough House of Prayer. For thirty-three years Lynnsay has mentored an Education for Ministry(EFM) group. She served as a supervisor to students at Emory University's Candler School of Theology in both Supervised Ministry and then the Contextual Education program. For several years, she also served as a spiritual director and retreat leader for Covenant Colleagues, a program offered at one time by Candler School of Theology to support clergy women in their first 10 years of ministry. Lynnsay has served on the staff of St. Bede's Church since 1998. She directs The Julian of Norwich Center through which she serves our diocese in the ministry of spiritual direction.








The Rev. Dr. (Ret) Barbara Patterson (Bobbi)
Dr. Patterson joined Emory University's faculty in 1994 after serving as a University Chaplain and Dean of Students. A specialist in spiritual practices, her comparative approach from Christian and Tibetan Buddhist perspectives emphasizes processes of self and communal transformation for ethical engagement in social change. Her recent scholarship and teaching focuses at the intersection of contemplative practices, experiences of place, and sustainability. With training in feminist theory and theology, her interests draw on the fields of symbolic anthropology, psychodynamics, and cultural constructions of self, nature, and community. Interested in phenomenological and embodied approaches to theory and teaching, she has secured a national place in pedagogical discussions on civic engagement, experiential education, and integrative pedagogies.










The Venerable Archdeacon Carole Maddux
Carole Maddux has extensive experience in advocacy, leadership, policy, and nonprofit management. Ordained as a deacon in the Episcopal Church in 2006 and appointed archdeacon of the Diocese of Atlanta encompassing north and middle Georgia, she has a passion for pursuing God's mission in the world. Archdeacon Maddux has served on multiple boards in the community including local service nonprofits (both faith-based and secular), statewide healthcare organizations, and an international religious organization. She is both founder and executive director of the Georgia Interfaith Public Policy Center. Archdeacon Maddux has 24 years of experience in nonprofit management, 16 of which are at the executive level. She has an undergraduate degree in communications from Georgia State University and master's degree in Health Care Policy and Administration from Mercer University. Born in Waycross, GA, she is a ninth generation Georgian with a deep love of Georgia and Georgians.

back to top of page











The Rev. Dr. Stefanie Taylor
Stefanie is a graduate of The University of South Carolina. She earned her MDiv at The General Seminary and her DEdMin at Columbia Theological Seminary. Before entering seminary, Stefanie served as the interim Canon for Youth and Young Adult Ministries in the diocese of Western North Carolina. She was also the Director of the diocesan camp, Camp Henry. Before joining the staff at St. Martin's School, Stefanie served as the Assistant Rector to St. John's Episcopal Church and Assistant Chaplain to St. John's Episcopal School in Tampa, Florida. Stefanie is a Canterbury Scholar and a contemplative. She has completed two wisdom schools with Cynthia Bourgeault and numerous other wisdom retreats and classes.








The Rev. David Wagner 
bio coming soon 



The Rev. Dwight Oiger
The Rev. Dr. Dwight Ogier is a Ft. Benning native and has served as an Episcopal priest since 1972. He has served many churches in the southeast as a rector. He is a graduate of University of the South, Sewanee, Tenn. as well as Berkley Divinity/Yale University, New Haven, Conn. and The Pittsburgh Theological Seminary. He is a certified interim minister and has vast pastoral experience with all levels of parish ministry. He has served many summer ministries including a Hurricane Katrina mission with the Episcopal clergy of the Diocese of Atlanta. Since 1991 he has been collecting and bringing recycled theological books to the Adopt-A-Seminary Program associated with the Society for Promoting Christian Knowledge organization.  He is also a certified trauma first responder as well as an active outdoorsman, photographer and a lover of sailing. 
The Rev Mimi Guerra
The Rev. Irma (Mimi) Guerra is a native of Mexico who moved to the United States in 1994. She has been an educator for 30 years and was a Spanish teacher with the Douglas County Schools. Guerra earned a Bachelor of Arts in Spanish in 1989 from the University of Victoria and earned a Child Development Associate (CDA) at Kennesaw State University for Early Childhood Education in 2002. She has also completed English classes at the Cobb County Adult Education Center, completed CPE (Clinical Pastoral Education) at the Training and Counseling Center (TACC) of St. Luke's, and last summer finished seminary at CETLA (Theological Education Center for Latinos) at the Diocese of Atlanta.

As a child, Guerra aspired to be a nun, but her father encouraged her to become a teacher. However, she never gave up on her dreams of working in the church, and today, in addition to her work as a translator for Title One public schools, she devotes time to helping people build a closer relationship with God. As a priest in charge of the Hispanic Community at Christ Church she wants to help accomplish our mission in order to "live, love, and serve boldly together in the name of Jesus Christ."

Guerra is the proud mother of one son, Henry, who is 20 and attends West Georgia College. She loves spending time with her family and helping people in need.

You can learn more on https://www.ccnorcross.org

back to top of page












The Rev. Canon John Bolton
The Reverend Canon John Bolton, he was ordained a Priest in the Diocese of Edinburgh in 1965. Since 1983, John has served in the Diocese of Atlanta as an Interim Rector, Supply Priest, Rector, Priest in Charge and Vicar in a total on nine churches, most recently as Priest in Charge of the Church of Our Saviour in Virginia Highland for seven years. In 2014, Bishop Wright appointed John as Canon Chaplain for the Diocese with responsibility for the pastoral care of the active clergy and their families. He comes to St. David's as Priest Associate after serving in that capacity at St. Aidan's Episcopal Church in Alpharetta for three years.

You can learn more on http://stdavidchurch.org

back to top of page












The Rev. Dr. Cynthia Park
Dr. Park joined the staff at Grace in 2014 as the Associate Rector for Ministries of Compassion. She worked directly with all initiatives within the parish and with community partners that address the needs of the poor, the hungry, the lonely, and the sick. Among her community partnerships, she works with the governor's office on assisting released felons re-entering our communities. She also serves on boards at both Brenau University and the University of North Georgia.

Cynthia has worked as a language and performance consultant for The Seed Company, a branch of The Wycliffe Bible Translators. Her recent research has focused on the biblical book of Ruth. She is popular retreat leader and teacher and enjoys any discussion or interest in the subject of biblical Hebrew, the primary focus of her doctoral program at The Catholic University of America, from which she was awarded a PhD from the Department of Semitic and Egyptian languages and Literatures.

After graduating from Virginia Theological Seminary, she was ordained to the priesthood in the Diocese of Virginia, where she served as assistant at Saint Clement Episcopal Church in Alexandria before she and her husband Jack moved to Georgia. Also a licensed professional counselor, Dr. Park's ministry is shaped by the influences of psychology, cognitive behaviorism, linguistics, and theology as well as her companionship with her colleague Stuart – a not insignificant piece of the joy of her vocation.

You can learn more on https://www.gracechurchgainesville.org

back to top of page












The Rev. Loree Reed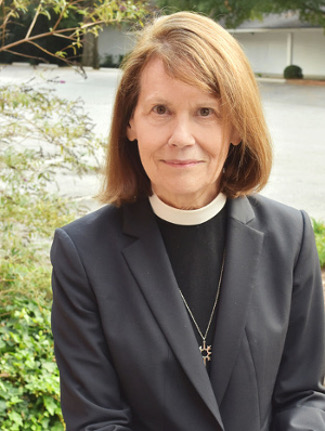 The Reverend Loree Reed, our Priest in Charge, came to All Angels in 2016, meaning to stay only until she finished training for Interim Ministry work in the Diocese. But she agreed to stay on when she saw the extraordinary love and concern this congregation showed, one to one another and to their neighbors in need. "This is the little church with a great big heart," she says. "In all the churches I have served in this Diocese, I have never seen anything like it. And it isn't just one or two people here who care. Everyone is concerned. Everyone is involved."

Loree is a graduate of Friends School in Wilmington, Delaware, Connecticut College for Women and Candler School of Theology. She and her husband Walt have three grown children and six (beloved) grandchildren.

You can learn more on http://www.allangels-eatonton.org

back to top of page












The Rev. Jane Mitchell Weston
Jane earned her Master of Divinity from the Candler School of Theology at Emory University in 2014 after working for many years as a lawyer in California. As Priest-in-Charge, Jane has worked with the congregation to revitalize their community and expand their connections in Rockdale county.

You can learn more on https://www.stsimonsconyers.org

back to top of page











The Rev. M. Edwin Beckham
Edwin has served as "Sheepdog" to the flock at Good Shepherd since 2013, Edwin first served at Emmanuel, Athens for 4.5 years after ordination. After growing up in Greenville, S.C., he's been in and out of metro ATL since two years at Tech in the '80s. He was living in Roswell with wife Laura and sons, working in software training, when the family uprooted for his MDiv. studies at the (Episcopal) Seminary of the Southwest.
Edwin seeks beautiful, sacrament-focused worship; inspiration from the ancient church; and spiritual practices that help us grow in faith and holiness. Pilgrimage is the lens: we are always on a journey.
Edwin loves music, across genres. Almost anything is good live. U2 played a part in his "re-conversion" to Christianity as a young adult. The spiritual, even devotional quality of their shows and catalog continues to impress.  Edwin enjoys getting outdoors to hike along rivers and ridges and dreams of more canoeing. He'd love to get back to tennis, especially alongside Laura on the doubles court. His biggest fan is his CKC Spaniel, Nigel.


You can learn more on https://www.goodshepherdcovington.org/

back to top of page












The Venerable Juan Sandoval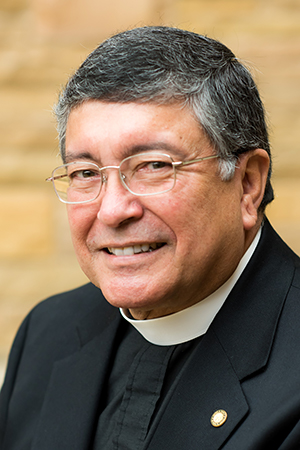 The Venerable Juan Sandoval is from the Cathedral of St. Philip. He serves both locally and nationally in organizations such as Nuevo Amanecer, CETLA and New Community. He provides Prayers at Eventide at 5:30 pm Monday through Saturday on his Facebook page and Holy Eucharist on Sundays at 10:30 a.m.

You can learn more on https://www.cathedralatl.org

back to top of page



The Reverend Doctor Horace L. Griffin
The Reverend Doctor Horace L. Griffin is the former Hospice and Palliative Care Chaplin Fellow at the mountain Home VA medical Center and Chaplain Resident at Johnson Medical Center in Johnson City, TN. He has served as a Professor of Pastoral Theology, Care and Counseling at 2 Episcopal seminaries and has taught courses at Pacific School of Religion, Berkeley, CA.

Horace was ordained as an Episcopal priest in 2005 and served several parishes as a Supply Pries in the dioceses of New York, Long Island and Newark. In 2006 he became the Associate Priest for Youth and Family ministries at All Saints Episcopal Church in Glen Rock, New Jersey where he instituted the "Star of the Month" program which honored a child each month who exhibited Christian values and a burgeoning theology.

When Dr. Griffin joined All Souls Episcopal Church in Berkeley, CA he not only took on the responsibility of liturgical and pastoral care, but also organized support for Open Door Dinner, a dinner for homeless and neighbors in the East Bay area. He and the rector also co-led the Lenten series "We Cannot Walk Alone" which invited parishioners to share haw race and racism have impacted their lives and how they could oppose the evil of racism.

Horace is the currently the Senior Associate for Pastoral Care and Community Ministries at St. Luke's Episcopal Church in Atlanta, GA. He organizes the pastoral care work of the parish and offers leadership for the various groups and programs at St. Luke's. In 2018 he started a Community of Hope ministry with eight St. Luke's parishioners and he also began the Lay Paastoral Care ministry, Good Samaritan, which assists and supports parishioners needing meal, transportation and home support. In addition to the ministries at St. Luke's he provides oversight for 14 ministries within the City of Atlanta and beyond.

He is the author of Their Own Receive Them Not which is an exploration of African-American Lesbians and Gays in the Black church.
The Reverend Robert B. Dendtler
Father Bob is currently serving at Church of the Mediator in Washington, Georgia. He graduated from the University of Pennsylvania and the University of Tennessee. Bob is a retired Army Officer. After the Army he attended Virginia Theological Seminary and graduated in 1983.

He has served as Rector at Christ Episcopal Church, Kennesaw, Priest In Charge at All Angels, Eatonton and is currently Priest In Charge at Church of the Mediator in Washington, Georgia from 1993 to 2000. Father Bob also served as the Diocesan Spiritual Advisor for Cursillo and served on the National Committee. He was a supply priest and served as Priest in Charge in the Diocese of the Virgin Islands.

Father Bob golfs, plays tennis and enjoys working out at the fitness center. He has been married to his wife, Charlotte, for 54 years and has 3 adult children.
The Rev. Dr. Stuart Higganbotham

Fr. Stuart began as rector of Grace Episcopal Church in Gainesville in early January 2014.  He has a particular passion for the intersection of contemplative practices and congregational development.  His work as a priest, retreat leader, and author is grounded in the Christian contemplative tradition.

He has shared with the New Contemplative Exchange, a fellowship first gathered by Thomas Keating, Richard Rohr, Tilden Edwards, and Laurence Freeman at St. Benedict's Monastery in Snowmass, Colorado Fr. Stuart contributed to and co-edited the volume Contemplation and Community: A Gathering of Fresh Voices for a Living Tradition  and is working on a further book that delves more deeply into what he sees as the opportunity for a contemplative reformation within the traditional parish church.

He studied in the pre-med program at Lyon College in Batesville, Arkansas (B.S. in Biology, summa cum laude) and did his initial theological studies at Columbia Theological Seminary. He has also completed a certificate in Anglican Studies from the School of Theology at the University of the South, Sewanee Tennessee where he also completed his Doctor of Ministry degree as well.

He co-directs the clergy leadership program with the Shalem Institute for Spiritual Formation and has also worked with the World Community for Christian Meditation, the Candler School of Theology, Mepkin Abbey, and other communities as they explore how the practice of prayer helps nurture congregational life and vocation.

He and his wife, Lisa, have one daughter, Evelyn. They grew up in Southeastern Arkansas, in the Mississippi Delta, with fried catfish, sweet tea, and mosquitoes the size of small birds.

Learn more on their website, https://www.gracechurchgainesville.org/

 

 

 

 

 

 

 


The Rev. Dr. Stuart Higganbotham's Books:

Contemplation And Community : A Gathering Of Fresh Voices For A Living Tradition

 
The Rev. Dr. Angela F. Shepherd

The Rev. Canon Dr. Angela F. Shepherd is the seventh rector of St. Bartholomew's Episcopal Church, a congregation deeply committed to radical hospitality, social justice, Christian formation, worship, and music. Mother Angela's tenure began in March of 2018 making her the first woman and African American to be called as rector. She is a contemplative, Gospel based strategist who enjoys bringing people closer to God and working with others for the common good.

Mother Angela was ordained deacon and priest in 1996. Prior to moving to Atlanta, she enjoyed a rich and wide-ranging ministry in the Episcopal Diocese of Maryland where she served on the Bishop's staff for seven years as Canon for Mission (2010 – 2018) and rector of St. Philip's, Annapolis (1999-2010). Her first call was to St. Augustine's, Youngstown, Ohio where she was vicar (1996-1999).

In addition to leading congregations her ordained ministry has included: programs that supported children and youth, chief operation officer for Sutton Scholars High School Enrichment Program, chairperson Truth and Reconciliation Commission, ministries that dismantled racism, cared for the environment, and public policy; working with vestries by leading retreats, workshops and making presentations covering various topics.

Angela's commitment to the Episcopal Church extends beyond the nave. Her gifts and skills have been shared in three dioceses and the broader church: Commission on Ministry, Standing Committee, General Convention Deputy in 2003, 2006, 2009, Diocesan Chaplain to Daughters of the King, Diocesan Council, Budget and Finance, Disciplinary Board for Bishops, and the Executive Council Committee on Antiracism. As a public theologian she has given time to a variety of civic boards, marched in rallies, and testified before the state legislature, putting her faith in action.

Dr. Shepherd is a lifelong learner, who earned a Doctor of Ministry degree with a concentration in Becoming Beloved Community from McCormick Theological Seminary, Chicago, Master of Divinity degree from the former Seabury Theological Seminary, Evanston, IL where she received the Field Prize for homiletics. A curiosity for money and faith led to the completion of an Executive Certificate in Religious Fundraising from Indiana University Lilly Family School of Philanthropy. She also holds degrees in human resources development and business administration, and marketing.

Angela enjoys exploring the intersection between contemporary Christianity and culture, travel, smooth jazz, houseplants, the outdoors, fine arts, Bikram yoga, and sporting events. She is a member of Alpha Kappa Alpha Sorority, Incorporated, Daughters of the King, Union of Black Episcopalians, and Episcopal Preaching Foundation faculty member.

Learn more: https://www.stbartsatlanta.org/about

 

 

 
The Rev. Canon Cathy Zappa

Before graduating with an M.Div. from Candler School of Theology at Emory in 2010, The Rev. Cathy Zappa earned B.A. from University of Georgia in 1994, an M.A. from University of Texas in 1997, and a B.A. from University of Texas in 2000.

Having served as part-time priest at Church of the Holy Spirit in Cumming, and as Program Director of the Theological Studies program at Arrendale Prison in Alto, Georgia, The Rev. Cathy Zappa also served the Cathedral as Canon for Education and Worship, and has worked closely in the chaplaincy programs of the women's prison system in Atlanta. Currently, she serves as Canon for Liturgy and Pastoral Care.

Learn more on their website, www.cathedralatl.org

 

 

 
The Rev. Barbara Brown Taylor

Barbara Brown Taylor is a best-selling author, teacher, and Episcopal priest. Her first memoir, Leaving Church, won an Author of the Year award from the Georgia Writers Association in 2006. Her next two books, An Altar in the World (2010) and Learning to Walk in the Dark (2015), earned places on the New York Times bestseller list. She has served on the faculties of Piedmont College, Columbia Theological Seminary, Candler School of Theology at Emory University, McAfee School of Theology at Mercer University, and the Certificate in Theological Studies program at Arrendale State Prison for Women in Alto, Georgia. In 2014 TIME included her on its annual list of Most Influential People; in 2015 she was named Georgia Woman of the Year; in 2016 she received the President's Medal at the Chautauqua Institution in New York. Her fourteenth book, Holy Envy, was released by HarperOne in March 2019.

Previously, she has been an Avon lady, a cocktail waitress, a horseback riding instructor, and a hospital chaplain, but her favorite job was teaching world religions at Piedmont College for twenty years before putting the chalk down in 2017. She now divides her time between writing, speaking, and caring for the land on which she lives. Barbara and her husband Ed tend a small farm in the foothills of the Appalachians.

Learn more on https://barbarabrowntaylor.com/

 

 

 

 

 

 

Photograph by Melissa Golden/Redux for CNN
The Very Rev. Grace Burton-Edwards, DMin.

Grace Burton-Edwards, came to Columbus in February 2014 from Indianapolis, IN. She was originally ordained as an American Baptist pastor in 1994 and served in American Baptist, United Methodist, and ecumenical settings before discerning a call to the Episcopal Church.

That call began during a college semester in London where she met God in new ways through Anglican liturgy. It reemerged as she served as a youth minister with an Episcopal church. It deepened when she enrolled in a Doctor of Ministry program at an Episcopal seminary and learned more about our baptismal covenant and commitment to God's mission in the world.

Grace was confirmed in 2004 and ordained as a priest in 2007. Grace graduated from Mississippi College in Clinton, Mississippi, attended the Southern Baptist Theological Seminary in Louisville, Kentucky, completed her MDiv at Christian Theological Seminary in Indianapolis, and completed a Doctor of Ministry in Congregational Development at Seabury-Western. She is married to Taylor Burton-Edward who works with United Methodist Communications. They have two adult sons. Jacob lives in in Indianapolis, and Will is a working actor in Charlotte, North Carolina.

Learn more on www.stthomascolumbus.org

 

 

 

 

 

 

 
The Rev. Nikki Mathis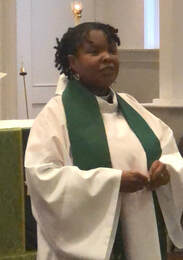 Prior to this ministry, The Rev. Mathis served as the Associate Rector of St. Peter's Episcopal Church in Rome, Georgia. At St. Peter's her responsibilities included preaching, teaching, pastoral care and counseling, and oversight of the children's and youth ministry programs. Prior to her five years at St. Peter's, she was the Associate Dean for Student Life at the School of Theology, University of the South in Sewanee, Tennessee. She has also served as Associate Rector at St. Paul's Episcopal Church in Atlanta.

In addition to her parish experience, Nikki has served as a teacher / professor in the Preaching Excellence Program in Richmond, Virginia during the past 7 years. And prior to entering the ministry, she worked as a professional social worker for the Department of Family and Children Services.

Nikki received her call to the ministry while she was attending St. Gregory the Great. The Rt. Rev. Porter Taylor, Rector at that time, encouraged her to attend seminary.

She is married to Vincent Mathis, and they have a 5-year old son named Ethan. She holds a BA degree from Emory University, a Master of Social Work from the University of Georgia, and a Master of Divinity from the University of the South.

Learn more on their website, https://www.stgregoryathens.org

The Rev. Ben R. Wells
The Reverend Ben R. Wells became the rector of St. Francis on January 1, 2013.

Ben is a native Kentuckian and attended the University of Kentucky where he received a BS in Biology and an MS in Toxicology. He spent 25 years as a forensic toxicologist in Lexington, KY and Atlanta, GA. It was in Atlanta in 1992 that Ben met his partner Arthur while both were beginning their journey with the Episcopal Church.

After discerning for the priesthood and being granted postulancy by the Episcopal Diocese of Atlanta, Ben and Arthur (with Bishop J. Neil Alexander's consent) decided that Ben would attend The Church Divinity School of the Pacific (CDSP) in Berkeley, CA, a member of the Graduate Theological Union, an ecumenical consortium of nine seminaries and two houses of study. Ben became a candidate for Holy Orders in 2010. He graduated in May of 2011 with a Master of Divinity emphasizing homiletics and liturgics. Ben was a co-winner of the 2011 CDSP preaching award.

After accepting an offer to relocate to Macon to become the assisting rector at St. Francis, Ben was ordained to the priesthood on August 27, 2011 at St. Bartholomew's Episcopal Church in Atlanta, his sponsoring community. At St. Bart's, Ben had served as the acolyte warden for eight years, Sunday school teacher for ages 12-14, junior warden, and senior warden.

Ben's interests lie in reading, gardening, cooking, contemplative prayer, and watching zombie, sci-fi, and classic Hollywood films. He enjoys hiking and going to Camp Mikell when he can. He also has a great interest in religious icons after taking a summer "writing icons" class at the Dominican School of Philosophy and Theology in Berkeley.

His ministry's emphasis is on Children's, Youth, and Adult Christian Formation, and the St. Francis Young Adult community. Since 2006, Ben has traveled to southern Honduras as a member of a medical mission team sponsored by the Episcopal Dioceses of North Carolina and Atlanta. He considers himself both a scientist and a priest, both vocations searching to make the invisible visible.
You can learn more on their website, https://www.stfrancismacon.com

The Rev. Scott Kidd
The Rev. Scott Kidd of Church of the Resurrection strives to demonstrate the real-life application of scripture, tradition and reason by providing a safe place to respond to each other's needs, hurts, joys and interests. The Church of the Resurrection is proud to be a welcoming and relevant Christian community doing what matters through prayer, worship, teaching, outreach, fellowship and service.
Learn more on their website, https://www.resurrectionsautee.com
The Rev. Ed Bacon
Ed Bacon is an Episcopal priest whose central passion is teaching that Jesus embodied a Love-based life as opposed to a fear-based existence.  Stemming from that foundation, Ed teaches the Oneness of all creation, rethinking Christianity as non-bigoted, science-friendly, interfaith, and grace-based as well as promoting peace and justice for all regardless of race, gender, religion, or sexual orientation.
After his 2016 retirement from 35 years of being senior priest (rector or dean) of Episcopal churches, Ed continues his priesthood as speaker, retreat leader, and writer. His longest tenure was leading All Saints Church in Pasadena, California for 21 years. In January 2019, he became Interim Rector of St. Luke's Church, downtown Atlanta, where Ed was ordained. 
Author of 8 Habits of Love, Ed has been a guest host on Oprah Winfrey's Soul Series (Oprah & Friends Radio) and a guest panelist in the Spirituality 101 segment of The Oprah Winfrey Show's "Living Your Best Life" series. Ms. Winfrey named Ed Bacon a "Soul Teacher" on her "SuperSoul 100" list, a collection of "100 awakened leaders who are using their voices to elevate humanity. In August, 2020, Ed received the "New Thought Walden Award" for Interfaith and Intercultural Understanding.
He serves on several boards, including Pando Populus, an organization promoting the values and preservation of the largest organism on the planet, "Pando," the one-tree 106 acre quaking aspen forest in Southern Utah. He also serves on the board of Kanuga Camp and Conference Center in the western North Carolina mountains. He also chairs the Muslim Public Affairs Council Advisory Board.
He blogs on Medium.com about Wholemaking in a tribalized/polarized cultural environment and can be followed there as well as on Facebook and Twitter. The Oprah Winfrey Network has recently chosen his interviews with Ms. Winfrey for the SuperSoul Conversations by Oprah on Apple Podcasts. He and his wife live in Birmingham near their grandchildren. His website is Edbacon.co.
Learn more on https